From 16 November 2020, we activated our project Registrant Verification for .be domain names.
Every new domain name is checked against a series of parameters to determine if it's a suspicious registration. If the domain name matches several parameters, it's not delegated and proof of identity is requested.
When verification of identity is received, the domain name is delegated.
The flow for registrant verification is shown in this diagram:
The scenario for registrant verification is as follows:
A new domain name is registered.

The domain name is not delegated if verification is required.

The registrant receives an email to ask for verification.

The registrar receives an EPP poll/CPS message indicating verification is required.

The registrant proves his/her identity.

DNS Belgium approves the documentation.

DNS Belgium returns control of the domain name.
All registrant contacts have an extra verification status. When a contact is selected for verification, a banner is shown on top of the 'View contact' page and the Verification status of the contact is set to Pending: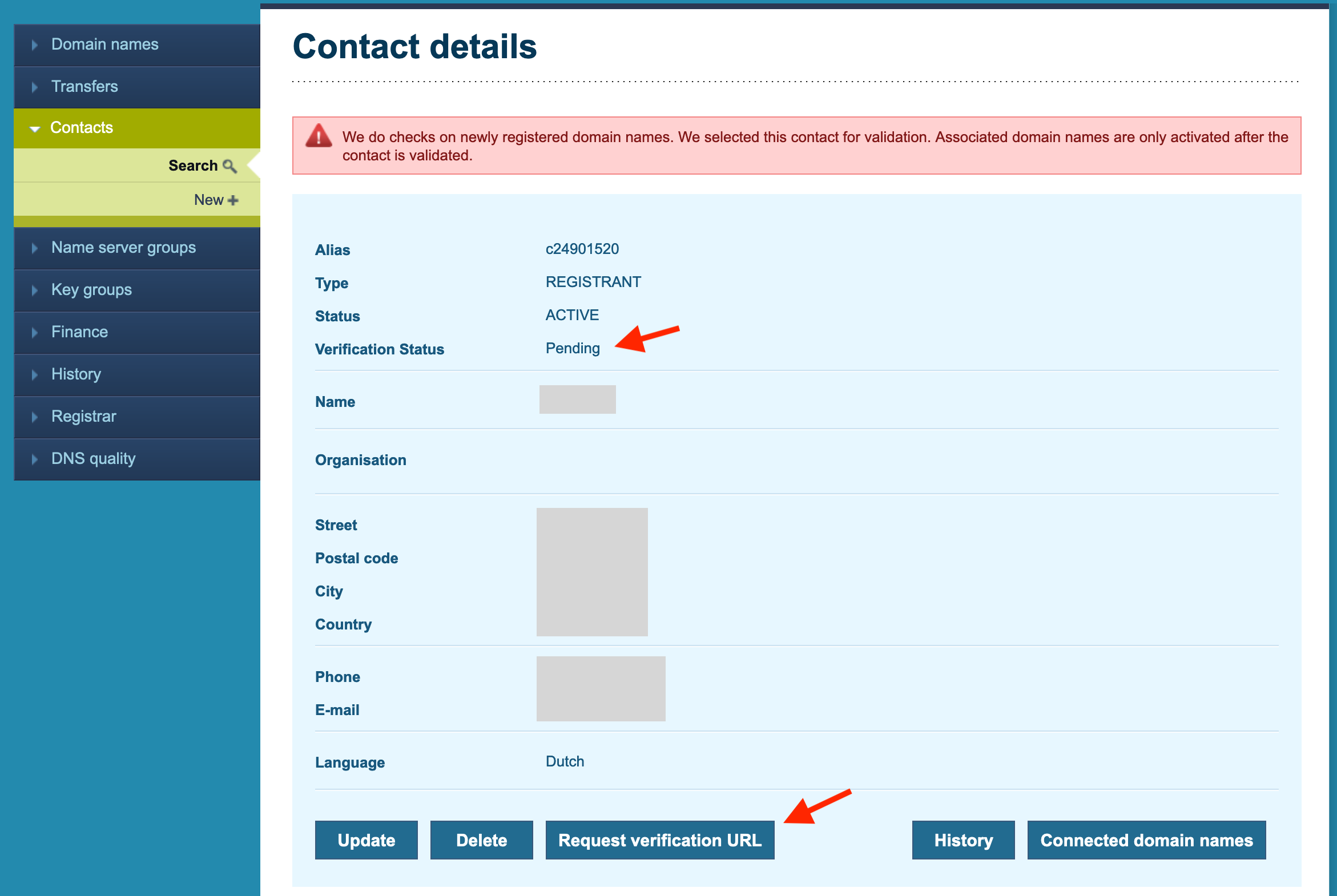 At the bottom of view contact, an extra button is available to request the verification url for this registrant. When you click on this button, the mail to the registrant to request a verification is resent. If you have chosen to inform your registrant yourself, you will see the url and can use it in your own mail templates.
On the domain view, a banner is also shown:

Via EPP, you can use info-contact v2.0 to see the verification status of a contact and the url where the registrant can provide verification, the EPP server will give the following response:
<?xml version="1.0" encoding="UTF-8"?>
<epp xmlns="urn:ietf:params:xml:ns:epp-1.0" xmlns:contact="urn:ietf:params:xml:ns:contact-1.0" xmlns:dnsbe="http://www.dns.be/xml/epp/dnsbe-1.0">
  <response>
    <result code="1000">
      <msg>Command completed successfully</msg>
    </result>
    <resData>
      <contact:infData>
        <contact:id>c23145796</contact:id>
        <contact:roid>23145796-DNSBE</contact:roid>
        <contact:status s="ok"/>
        <contact:postalInfo type="loc">
          <contact:name>anonymous</contact:name>
          <contact:org>anonymous</contact:org>
          <contact:addr>
            <contact:street>anonymous</contact:street>
            <contact:city>Leuven</contact:city>
            <contact:pc>3000</contact:pc>
            <contact:cc>BE</contact:cc>
          </contact:addr>
        </contact:postalInfo>
        <contact:voice>+32.1111222233</contact:voice>
        <contact:email>veerle@test.be</contact:email>
        <contact:clID>a003774</contact:clID>
        <contact:crID>a003774</contact:crID>
        <contact:crDate>2020-08-03T07:23:17.000Z</contact:crDate>
        <contact:upDate>2020-08-26T07:59:09.000Z</contact:upDate>
      </contact:infData>
    </resData>
    <extension>
      <dnsbe:ext>
        <dnsbe:infData>
          <dnsbe:contact>
            <dnsbe:type>licensee</dnsbe:type>
            <dnsbe:lang>nl</dnsbe:lang>
            <dnsbe:onhold>false</dnsbe:onhold>
            <dnsbe:verification>pending</dnsbe:verification>
            <dnsbe:verificationurl>https://www.dnsbelgium.be/en/verification#token=e23e9e28-c404-483a-9a38-f43bf6a5b399</dnsbe:verificationurl> 
            <dnsbe:verificationtype>AUTO</dnsbe:verificationtype>
          </dnsbe:contact>
        </dnsbe:infData>
      </dnsbe:ext>
    </extension>
    <trID>
      <clTRID>info-contact-00</clTRID>
      <svTRID>dnsbe-0</svTRID>
    </trID>
  </response>
</epp>

Using info-domain v2.0, you will see that the nameservers are overridden:
<?xml version="1.0" encoding="UTF-8"?>
<epp xmlns="urn:ietf:params:xml:ns:epp-1.0" xmlns:domain="urn:ietf:params:xml:ns:domain-1.0" xmlns:dnsbe="http://www.dns.be/xml/epp/dnsbe-1.0">
  <response>
    <result code="1000">
      <msg>Command completed successfully</msg>
    </result>
    <resData>
      <domain:infData>
        <domain:name>testdomain.be</domain:name>
        <domain:roid>6208625-DNSBE</domain:roid>
        <domain:status s="ok"/>
        <domain:registrant>c7780601</domain:registrant>
        <domain:contact type="billing">c7780583</domain:contact>
        <domain:contact type="tech">c7780581</domain:contact>
        <domain:clID>a000001</domain:clID>
        <domain:crID>a000001</domain:crID>
        <domain:crDate>2010-06-22T13:06:41.000Z</domain:crDate>
        <domain:upID>a000001</domain:upID>
        <domain:upDate>2010-06-24T12:09:24.000Z</domain:upDate>
        <domain:exDate>2011-06-24T12:09:24.000Z</domain:exDate>
        <domain:trDate>2010-06-24T12:09:24.000Z</domain:trDate>
      </domain:infData>
    </resData>
    <extension>
      <dnsbe:ext>
        <dnsbe:infData>
          <dnsbe:domain>
            <dnsbe:onhold>false</dnsbe:onhold>
            <dnsbe:quarantined>false</dnsbe:quarantined>
            <dnsbe:nameserversOverridden reason="Breach of consumer protection legislation">true</dnsbe:nameserversOverridden>
          </dnsbe:domain>
        </dnsbe:infData>
      </dnsbe:ext>
    </extension>
    <trID>
      <svTRID>dnsbe-0</svTRID>
    </trID>
  </response>
</epp>